Malika: Warrior Queen Volume 1
By Magdalena Nitchi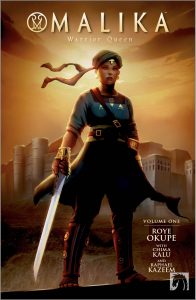 I devoured this absolutely fantastic graphic novel in a couple of hours. This first instalment, created by Roye Okupe, has me hungry for more of the series, and other stories set in the YouNeek YouNiverse.
Malika is the star of this book. She grabbed my attention right from the start, leading me through the story as effortlessly as she leads her Azzazzian soldiers into battle. Her struggle between maintaining an iron hold over the unstable political powers of her kingdom and showing compassion for her people was incredibly compelling, and gives her a wonderful emotional depth. I enjoyed how she interacts with other characters, such as Abdul and King Bass. I could believe that these characters had known each other for years. The dialogue felt natural, and never gave the impression of being used to just push the story forward.
The illustrations for this book, done by Chima Kalu and Raphael Kazeem, are equally fabulous. Richly coloured clothing makes the characters pop, and I enjoyed how the military uniforms for different kingdoms contrast with one another, such as Azzazz suiting up in light blues and greens, while Atala's soldiers wear red. The fight scenes are dynamic and spectacular. Malika's combat prowess made her truly worthy of her "warrior queen" title.
I appreciated how the kingdoms in the story are based on actual historical groups, and each specializes in different areas of production and trade. This historical basis elevates the story's sense of realism, and encouraged me to do my own research into some of the details. I felt the love and care that the creators put into the construction of these kingdoms, both visually and narratively.
Overall, Malika: Warrior Queen Volume 1 is an excellent start to the series, and I look forward to getting my hands on a copy when it is published. This YouNeek comic universe, which mixes science-fiction and fantasy, is promising.
Recursion
Par Francesca Robitaille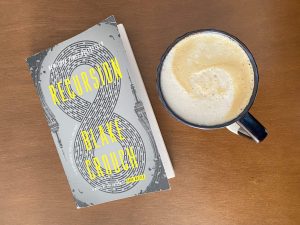 Recursion de Blake Crouch ,publié en 2019, reprend plusieurs des thèmes les plus populaires au sein de l'imaginaire. Le roman suit en parallèle le détective Barry Sutton du NYPD, qui tente de retrouver son chemin suite à la mort accidentelle de sa fille; et Helena Smith, une scientifique travaillant dans le domaine de la mémoire, et espérant trouver un remède pour l'Alzheimer, maladie dont sa mère est atteinte. Elle réussit à développer une "chaise" qui permet à ses utilisateurs de reprendre leur vie à partir d'un souvenir précis et de commencer une nouvelle dimension.
Cette technologie est au centre du dilemme, et la première partie du roman explore ce que représente la possibilité de revisiter certains moments de votre vie et comment elle peut changer pour le meilleur ou le pire. Par la suite, le roman change de ton pour discuter de la gestion de cette technologie et de la ruine qu'elle cause. Helena voit que l'humanité ne s'en servira pas pour améliorer leur condition, et espère remédier à ce problème.
J'avais souvent l'impression de lire plusieurs romans différents au sein du même univers et Cette impression m'a vu décrocher du roman à plus d'une reprise. J'aurais préféré que Crouch se concentre sur un seul thème principal, tel que les questions de la mémoire et de revisiter des moments de son passé, qui était mon thème préféré.
Bien que les thèmes utilisés ont rendu l'œuvre prévisible par endroits, l'atmosphère créé par Crouch combine parfaitement des moments de noirceur avec d'autres de beauté. Ultimement, je crois que ce roman plaira davantage à des amateurs de science-fiction qui découvrent le genre, ou à ceux qui se considèrent des détectives de l'intrigue littéraire (j'adore savoir si mes prévisions sont exactes, et je suis certaine de ne pas être la seule). Petit indice pour ces derniers: portez une attention particulière aux dates.
Iron Widow
By Madgalena Nitchi
Iron Widow is a dark, intense, and absolutely incredible story. Expertly walking the line between far-future science fiction and fantasy, I could not put this book down.
As someone who has watched Pacific Rim, I enjoyed Xiran Jay Zhao's take on the idea of two minds melding together to pilot a giant robot. The "mind realms" that the protagonist Wu Zetian must navigate are fascinating and unique, and I appreciated how they each presented Zetian with a different form of danger. Zhao's future dystopia—wherein women are sacrificed as living batteries and are used to power machines and raise male pilots' glory— is frighteningly easy to imagine.
Zetian shakes that system up, and I was impressed with the depth of her characterization. While she did and said some horrible things, she never lost sight of her goals. Zhao successfully captured the ambition and strong will that a female empress must possess. While I am not familiar with the historical figure of Wu Zetian, whom the character is based on, I liked Zhao's iteration.
I also enjoyed how the main characters—Wu Zetian, Gao Yizhi, and Li Shimin—interact. Zetian may be the protagonist of the story, but the way all three of them support each other was wonderful. While Yizhi initially seems to reflect Zetian's cleverness, and Shimin represents her rage, their relationships are more complex. Zhao brought them all to life, and I enjoyed how their personalities balanced each other.
Zhao dismantles the idea of a YA protagonist choosing between two love interests by rejecting the idea that Zetian must make a choice in love and remove herself from all other forms of love in order to feel fulfilled. This rejection of the expected outcome for the relationships within the trio was a very pleasant surprise, and contrasts starkly with Zetian's relationship with her family and her society, which constrains her.
Overall, Iron Widow is an incredible novel, and the last few pages brought forth a stunning twist that I kept coming back to in disbelief. Zhao is a talented storyteller, and I felt immersed in the story through the depth of the characterization. This story was so well-written and provoked so many discussions within our team that we will publish a full-length article on it, so stay tuned!