For this year's final Catch of the Month, ImaginAtlas' editors weigh in on some of their top books, movies, and TV shows of 2021! Thank you for reading and we can't wait to share new articles with you in the new year.
Pour la dernière trouvailles du mois de cette année, les éditeures d'ImaginAtlas donnent leur avis sur certains de leurs meilleurs livres, films et émissions de télévision de 2021 ! Nous avons hâte de partager de nouveaux articles avec vous dans la nouvelle année.
Binti: Home par Nnedi Okorafor
Par Magdalena Nitchi
Après avoir lu Binti plus tôt cette année, j'avais décidément besoin de lire plus de Nnedi Okorafor. La suite, Binti: Home est une continuation de tout ce que j'ai aimé du premier roman.
L'histoire suit le retour de Binti sur Terre après sa première année d'université. Les tensions avec sa famille s'intensifient davantage lorsqu'elle ramène la Méduse Okwu sur la planète. Malgré leur relation étroite et leur lien emphatique, Okwu reste un être entièrement étranger, provenant d'une race qui était considérée auparavant comme violente et barbare. Le conflit entre les Méduses et les humains Khoush est toujours intense. Malgré son statut d'ambassadeur, Okwu n'est pas à l'abri de l'hostilité des humains.
Dans Binti: Home, Okorafor explore d'une façon fascinante les changements dans la dynamique familiale de Binti causés par son désir d'indépendance. Ce deuxième tome élabore davantage sur sa famille et la structure sociale des tribus. J'ai aimé découvrir les autres membres de la tribu désavoué.es qui vivent loin dans le désert dans ce deuxième livre, et la confrontation subséquente des préjugés et du rejet tribal. Les descriptions de Okorafor donnent vraiment vie au monde qu'elle dépeint.
De plus, le lien de Binti avec Okwu a entraîné une transformation physique, et les deux personnages s'en trouvent indéniablement changés. Est-il possible pour Binti de retourner chez elle et de s'intégrer de la même manière qu'auparavant ? Devrait-elle tenter de changer certains enjeux de sa société ? Le rôle de la biologie et des systèmes sociaux extraterrestres et leur impact sur les êtres humains sont fascinants, et Okorafor gère habilement cette thématique profonde.
Tout comme le premier roman, Binti : Home est une lecture vraiment captivante. Binti est devenue rapidement l'une de mes protagonistes de science-fiction préférées. Si vous cherchez une œuvre intéressante et profonde, mais pas trop longue, pensez à la trilogie Binti.
Autres recommendations: Panacea Build 1.0 by Charli Drever, Les Lignes Invisibles de Su J. Sokol et Émilie Laramée, First Kill, The Many Deaths of Laila Starr by Ram V., Werewolves Within dir. Josh Ruben
Everything Everywhere All At Once (dir. Daniel Kwan and Daniel Scheibert)
By Olivia Shan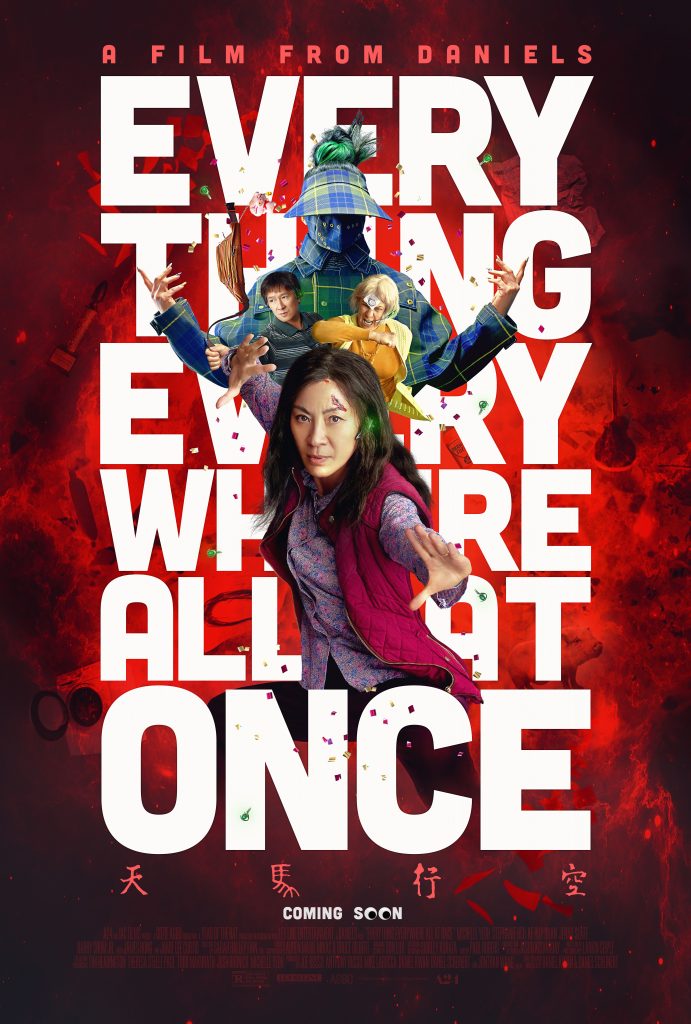 This past summer, I relented to my friends' constant badgering and finally watched A24's latest hyped-up dramedy Everything, Everything, All at Once. The profound impact it left on me has stood the test of time — I've since been converted into one of those badgering friends myself.
Played to dazzling heights by the deservedly lauded Michelle Yeoh, Evelyn is a Chinese-American laundromat owner who is struggling: her business is being audited by the IRS, her husband Waymond (Ke Huy Quan) is divorcing her, and she's had yet another fight with her daughter Joy (Stephanie Hsu). Just when she nearly crumbles under the weight of all these pressures, a new predicament completely upends her world. Another version of her husband — who calls himself Alpha-Waymond — accosts her and reveals that she is but a single version of all of the Evelyns in the multiverse. Only by tapping into the repressed potential and talents of all of her parallel universe selves will she be able to save the multiverse from an evil entity named Jobu Tupaki. Martial arts fight sequences ensue.
Beyond its entertaining action scenes and its delightfully strange, trippy humour — full of subtle allusions to classic Chinese films — Everything is a brutally raw articulation of Asian-American life and inter-generational immigrant identities. This is ultimately the story of a mother and a daughter who literally upturn whole universes in order to finally understand each other. The film is also a fervent celebration of optimism and hope, but not in a cheap or schmaltzy way — hope of the most earnest, unassuming, relatable kind. In the midst of the everyday cynicism that's become our norm, Everything proposes a refreshing, radical brand of hopepunk nihilism: "We can do whatever we want, nothing matters." Evelyn tells her daughter when they finally reconcile. Nothing matters in the end, so why not love and do what you love? It's a message that I'll carry with me into the new year and beyond.
Other recommendations: Moon Witch, Spider King by Marlon James, Bones and All (2022) dir. Luca Guadagnino, Wapke ed. by Michel Jean, and Blood on the Tracks by Shūzō Oshimi
Wild and Wicked Things by Francesca May
By Catherine Hall
Francesca May's mesmerizing debut novel, released on March 29, remains one of the best fantasy releases of the year. Set in post-WWII England, Wild and Wicked Things is a tale of witches, illegal magic, and Gatsby-esque parties.
Annie Mason, a simple girl who wants nothing to do with magic, travels to Crow Island when her father, who abandoned his family years ago, passes away and leaves her a house. She intends to settle his affairs as quickly as possible, but instead, she learns unsettling secrets about her family's history and her abilities with magic. Annie also develops a powerful attraction to Emmeline Delacroix, a witch who throws wild parties every night at the infamous Crow House. When Annie witnesses an argument between Bea — her estranged childhood best friend — and Emmeline, her destiny becomes entwined with theirs and the terrifyingly tempting world of forbidden magic.
Wild and Wicked Things has luscious imagery, enthralling mystery, and endearing and compelling characters that bring light to this dark tale. The magic and historical setting drew me to this novel, but what kept me hooked through the night was the raw and passionate forbidden romance between Annie and Emmeline. Their attraction is the true magic of the book and makes May's story a must-read for any fan of queer fantasy fiction.
Other recommendations: Gallant by V.E. Schwab, House of the Dragon, Babel, or the Necessity of Violence by R. F. Kuang