For this year's final Catch of the Month, ImaginAtlas's editors weigh in on some of their top books, movies, and TV shows of 2021! Thank you for reading and we can't wait to share new articles with you in the new year.
The Invisible Life of Addie LaRue
By Catherine Hall
Released in late 2020, V. E. Schwab's The Invisible Life of Addie LaRue was the first novel I read this year, and it has haunted me ever since. Desperate for a life bigger and more thrilling than what her small 17th-century village promises, Addie makes a deal with the devil, but—in true Faustian fashion—it turns out to be a curse. Addie gets her wish: she becomes immortal, free from the constraints of her village, time, and gender, but as soon as anyone turns their back on her, they forget her.
The story jumps between 17th-century France and modern-day New York City and all that nebulous space—and time—in between as Addie desperately tries to have some influence on the world around her and struggles with understanding the technicalities of her curse. She eventually finds that she can plant ideas into people's heads, becoming an invisible muse to artists throughout time.
Schwab's lyrical yet direct prose, compelling characters, and enchanting worldbuilding are wonderful, but what makes this novel truly remarkable are the existential questions that permeate every page: How do you find meaning in life? How do you leave your mark on the world? These fears and struggles, intertwined with the beauties of life, make this tale about a girl no one can remember truly unforgettable.
Other recommendations: Rhythm of War by Brandon Sanderson, The Witcher Season 2, The Nature of Middle-earth by J.R.R. Tolkien, and Klara and the Sun by Kazuo Ishiguro.
Mexican Gothic
By Magdalena Nitchi
Silvia Moreno-Garcia's gothic horror novel, published in 2020, is an absolutely thrilling read. I loved it so much that I wrote a whole review gushing about it. The plot focuses on Noemí Taboada, who, after receiving a mysterious letter from her cousin Catalina, goes to investigate the decaying mansion of Catalina's new, mysterious husband.
Moreno-Garcia creates an incredibly dense and foreboding atmosphere for this story. The decrepit English mansion leaps out of the Mexican countryside, and the staleness and rot are so palpable that I felt them in the air while reading. This delightful period piece may be set in the 1950s, but the menacing descriptions are reminiscent of older, traditional Gothic stories.
The novel explores a variety of horror themes, which merge into a compelling, eerie story. The intersection of body horror, illness, confinement, gaslighting, sexism, and colonialism leaves Noemí powerless, despite her bold and adventurous nature. The reader is constantly questioning what is real, if there is something supernatural afoot, or if the narrator is simply losing touch with reality. Mexican Gothic is an absolutely spectacular story, whose suspense continuously builds all the way up to the explosive ending.
Other recommendations: Iron Widow by Xiran Jay Zhao, Axiom's End by Lindsay Ellis, The Soft Landing Collection: Sapphic Fantasy and Science Fiction Stories by Jacquelynn Lyon, and Alien Worlds (2020).
Orlando (1992) dir. Sally Potter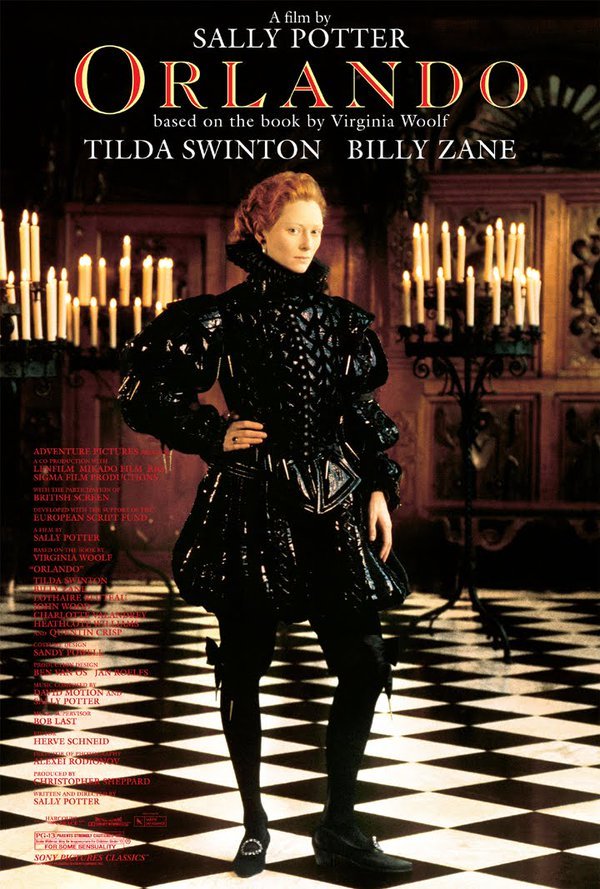 By Olivia Shan
2021 was the year I was properly introduced to the genius of Virgina Woolf. Her 1928 novel, Orlando: A Biography, sees the titular character experience several centuries of British history initially as a man, then as a woman. Orlando was a pioneering inquiry of female gender roles and it remains a crucial work within the feminist and queer literary canons. Incidentally, it's also been blessed with a near-perfect cinematic adaptation—the 1992 movie, Orlando. Tilda Swinton was born to play the role of Orlando. Her magnetic onscreen presence—both in Elizabethan doublets and breeches and in ornate puffed out gowns—is thrilling to watch.
Though the film makes some dramatic changes from the book to make it fit in a concise, cinematic mold, director Sally Potter clearly displays a rich understanding of the source material. The otherworldly, mythical quality of the original Orlando is perfectly matched in the film's tone and stunning cinematography. Even the subtle irony of Woolf's narrative voice is brought out in the delightful, brief instances in which Swinton's Orlando breaks the fourth wall.
From its costumes, to its grand set pieces, to its wonderfully unique soundtrack, every single component of the movie works together visually and auditorily to expand its themes of gender transgressiveness and transformation. The film ultimately achieves an astounding and deeply moving viewing experience. As all great adaptations should, it also reinvigorated my admiration for the original Orlando, and inspired me to reacquaint myself with Woolf's timeless classic.
Other recommendations: Black Leopard and Red Wolf by Marlon James, The Green Knight (2021) dir. David Lowery, Dune (2021) dir. Denis Villeneuve, and Lamb (2021) dir. Valdimar Jóhannsson.